There are many versions of the Bejeweled puzzle video game, where the goal of the game is to swap places of two adjasent horizontal or vertical blocks in order to form a match of three or more identical blocks. Candy Crush is among the most popular ones, but Gems of War in other hand goes way beyond the simplicity of the simple match-making.
Gems of War is a puzzle/RPG/strategy mash-up. At first you create your Hero to conquer the world of Krystara. Each Kingdom you capture holds new troops and quests for you to explore, as you strive to build the mightiest army in the realm.
Your troops are presented as cards with one (for most basic) up to 6 (for high level) different colors. As you match the blocks, the mana of that color starts to power up your Hero or monster skill. Once required mana pool is full – you can unleash that skill onto your opponent/s. There are also special Skull type of blocks, that once matched award with directly attacking with your most top placed card onto enemy most top placed card.
The ultimate goal is to destroy all 4 opponent cards using matching and card skills, before they destroy yours.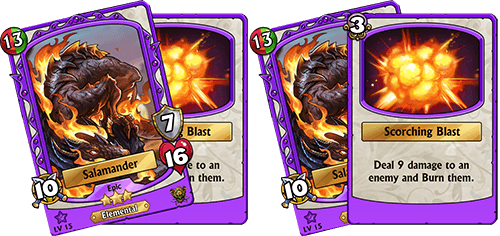 These are the key features that are available:
COLLECT and STRATEGIZE – Equip your hero with weapons and armor and lead a team of fantastical monsters into battle. Think strategically, upgrading your units and utilizing their unique abilities to defeat powerful bosses.
TEAM UP – Join a guild, chat with friends, and work together to unlock powerful buffs.
COMPETE – Participate in weekly events and PvP tournaments to win exclusive prizes.
JOURNEY – Fight your way through a vast array of quests, each with a distinctive story and game-changing rewards.
PLAY ANYWHERE – Link your account and play across devices and platforms.
SYSTEM REQUIREMENTS (minimum):
OS: XP SP2, Vista SP2, Windows 7 or higher
Processor: 2.33 GHz or faster x86 CPU, or Intel Atom 1.6Hz or faster CPU
Memory: 1 GB RAM
Graphics: Radeon X700 series or better, GeForce 6 series or better (Pixel Shader 2 support required)
Network: Broadband Internet connection
Storage: 700 MB available space
Sound Card: Required